Introducing the UMHS Global Health Institute
It gives us great pleasure to announce the establishment of the UMHS Global Health Institute (GHI). Sparked by overwhelming student and faculty interest for medical mission trips to medically underserved locations around the world, the GHI represents the culmination of enormous hard work and passion for using the unique resources of our medical university to make immediate and impactful change in this world.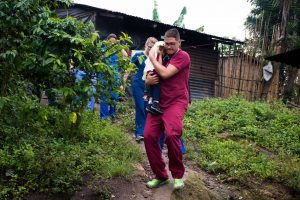 The GHI is based on four main components: (1) education, (2) research, (3) service, and (4) collaboration. Everyone from students to alumni will now have a structured and formalized way to participate in global health missions worldwide. UMHS professor Dr. Angel Matos, who has overseen all student medical missions over the past two years, will act as the GHI's director. In addition, UMHS is now a full member of the Consortium of Universities of Global Health (CUGH), joining many prestigious universities all committed to reducing health disparities around the world.
Overview Of What Is To Come
Education
We will identify a new group of Global Health Faculty from our current professors and visiting faculty
Strengthen our medical curriculum to educate our students in global health

Generate educational videos, seminars, conferences
Research
Use resources of the CUGH to start creating partnerships with other universities that are already conducting research projects in global health
Through our biostatistics course —which is a core component of public health— we want to begin our own independent student led research projects
Service
Develop a formalized structure for medical mission trips including:

Learning outcomes
Safety and security protocols
Specific core competencies
Intervention Model

Specific objectives, policies and procedures for medical trips abroad

Develop an annual calendar of two to three medical mission trips per year

Expand medical mission regions outside of Latin America to other parts of the world
Collaboration
Establish collaborations with departments of health and health ministries of different nations
Create partnerships with pharmaceutical industry, medical devices companies and other research institutions